Visec Releases GPS Web Server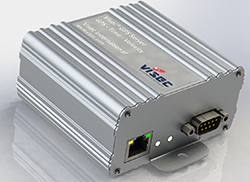 Cape Town, South Africa, August 14, 2017 Visec® (www.visec.com), creator of the Visec surveillance software suite and the License Plate Recognition Cloud Network in South Africa (LPR CLOUD SA)announces that it has developed and manufactured the Visec GPS Server, a standalone network embedded hardware device that provides real time GPS data location and GPS time logs.
The innovative product offers a low-cost solution for GPS tracking and is easily accessible with a web client based on the standard client web server architecture.
The Visec GPS Server was designed to be readily integrated into an internet of things (IOT) framework and 3rd party applications that require GPS tracking such as vehicle fleets, video surveillance, government agencies, retail asset protection and law enforcement activities.
To obtain GPS data, a web client simply sends a basic web command to the Visec GPS Server which results in a response containing the latest GPS data, such as latitude, longitude, date, time, speed, altitude, and height. An easy to use interface allows for additional customization.
"We originally developed the Visec GPS Server to be used exclusively for our Visec License Plate Recognition (LPR) Cloud Network in South Africa," says Alexander Bordbar, CTO of Visec. "However, during beta testing we received multiple requests from 3rd party integrators for adoption and based on this demand, we have now made the technology available to the public."
The Visec GPS Server was engineered to be easy to use, support seamless 3rd party integrations, provide extreme positioning accuracy, utilize low power consumption, display LED status indicators, have extreme portability for mobile application and be durable by being incased in a shock resistant metal chassis.
"The Visec GPS Server provides another example of the innovation at Visec," says Jason K. Bordbar, MBA, Senior VP of Sales and Marketing, Visec USA Division. "Not only was this product manufactured in house, the research and development was based on a collaborative effort of all stakeholders to ensure proper technological alignment and ultimately maximize ROI."
The Visec GPS Server is available for immediate purchase at www.visec.com
MSRP is R6,750 (ZAR- South African Rand) approximately $499 (USD- United States Dollars).
Media contact: [email protected]
About Visec®
Visec® is a leading developer of IP video surveillance software, access control technology, license plate recognition systems, quick response code enabled video analytic processing, GPS Server hardware and cloud based surveillance solutions. Visec employs a team of cutting edge software developers with a specialty in developing advanced mathematical algorithms for IP video application. It prides itself in producing complex solutions designed with the utmost software engineering standards known today. Visec abides by a doctrine that embraces Corporate Social Responsible Methodologies as part of its overall growth strategies. Visec has its principal offices in South Africa and the United States, with representation and clientele in all major countries around the world. For more information about Visec, please visit our website at www.visec.com


About the Visec LPR Cloud South Africa
Visec created the first LPR CLOUD South Africa (LPRCLOUDSA) that currently has hundreds of millions of recurring instances of license plates within South Africa. Current approved users of this LRP CLOUD include numerous South African Police Service (SAPS) members, Directorate for Priority Crime Investigation (Hawks), National Prosecuting Authority (NPA), South African National Parks (SAN Parks), City Councils, Metro Police, Law Enforcement, Approved Neighborhood Watch Operations Managers, Border Control, Cash-in-Transit and Car Rental Risk Investigators. The LPRCLOUDSA is created, funded and owned by Visec, and the Vehicle of Interest (VOI) database is heavily used by SAPS's LPR Data Custodians. To accomplish this task, Visec invested years of work, millions of Rands, and countless consultation from security professionals, and police officers. The result is a state of the art (and only) African LPR cloud. Visec continues to maintain the LPR Cloud with an expert technical team and sophisticated technology infrastructure.